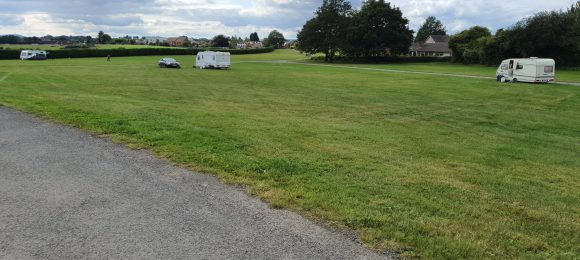 At the end of last month, our bailiff traveller eviction team in Hereford received a call on a Saturday morning.
The call was from a client we had not heard from for at least 5 years! The client explained they had inadvertently left one of their barriers up. As a result, trespassers had moved onto their land. The client was anxious to get the matter resolved and asked if we could sort it out over the weekend. Their fears were allayed. They asked if they should put the barrier back down as one of the travellers has said more were coming. We explained not to put the barriers down as this would prevent them leaving if they wished to do so.
The client explained that one of the travellers in particular was very threatening towards members of staff. They also stated that bottles were being thrown around and some staff were being verbally abused. They had also tried the common trick now of asking for money per caravan to move. Our Bailiff traveller eviction in Hereford team leader stated under no circumstances should they pay. This is because, we have found they go for a couple of days, then come back and demand more money to move.
A member of our bailiff traveller eviction in Hereford team was dispatched within 30 minutes to serve Notice to vacate. This is done under common Law and no lengthy court process is required. Usually, using this method, it can all be resolved within 24 hours!!
When our bailiff traveller eviction in Hereford team member arrived, 8 caravans were noted on the clients land. Our team member began talking to the occupants of the caravans and explaining the situation to them. Whilst doing so, the adult male who was causing all the trouble turned up. He began being verbally abusive and pushing the agent. After about 5 minutes of this behaviour, the adult male stopped. He realised that he could not intimidate the bailiff and eventually listened to what he had to say. The aggressive male stated they weren't moving. Our bailiff stated they would be back if they didn't.
Bright & early (8am) our bailiff traveller eviction in Hereford team re-attended as they had not moved. Our team began rousing the occupants of the caravans. This was met with astonishing verbal abuse from the occupants. Our bailiffs acted politely & professionally at all times. Explaining they must pack up and leave the land, which they had no permission to be on.
After around 2-3 hours, one of the travellers vehicles broke down and they could not move it. Whilst two males were trying to fix it, the others were busy packing up and hitching their caravans up to other vehicles. Approximately 1 -2 hours later, the other caravans were ready to move off. One of the males said they were leaving it and would be back within 1- 2 hours to get it.
True to their word, another vehicle turned up, and attached a tow rope to the broken down vehicle. Because it had been raining, it was proving difficult to get it off and, it was churning up the grass on the clients land. Eventually, it got some traction and moved off the land. The client then put their barriers back down.
Another successful eviction carried out by our bailiff traveller eviction in Hereford team. A happy client. Again, with no lengthy court process to contend with, all cleared in less that 24 hours!