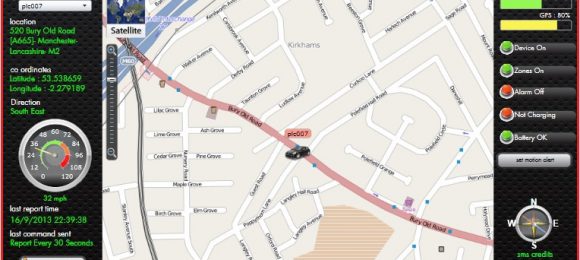 These days vehicle tracking systems are becoming an integral part of a surveillance strategy, whether it is to find out if your partner is cheating, or you need to monitor the whereabouts of employees that frequently travel on company time in a company car, or even remain compliant with the terms of an insurance policy for an high end vehicle in case the vehicle is stolen.
The tracking device will receive and interpret data and then send the information back to the monitoring equipment, which can be a PC, laptop, tablet or even a mobile phone. In this post we are going to look at the ways that different vehicle tracking devices communicate location information back to the monitoring equipment. There are numerous types of vehicle tracking devices on the market, however there are three main ways that these products obtain the information to determine the location of the vehicle they have been attached to:
Global Positioning Systems (GPS): This technology has been around since the 1970s. Originally the network of satellites were launched by the American Department of Defence. The inspiration behind the network of satellites in space was the need to set up a navigation system that could be used reliably whatever the local conditions. To successfully pinpoint a location the tracker must be able to access at least 4 satellites. A GPS device can be tiny because the software needed to translate the data received from the satellites into location and speed of movement and then send that to the monitoring equipment can be put on a microchip.
Very High Frequency (VHF): A device using this relatively new technology takes advantage of the top band of the radio wave spectrum, between 30 MHZ and 300 MHZ. It has been utilised in some forms for many years, such as walkie-talkies and car radios as seen in taxicabs. Much more recently it has been applied to covert vehicle tracking devices because it only needs a small aerial or antenna to transmit data over long distances. VHF can also transmit through standard building materials including metal, which means that if the vehicle is hidden in a shipping container or even just inside an underground car park it can still be tracked, unlike a GPS tracking device.
 Global System for Mobile communication (GSM):  Most mobile phones operate on a GSM system, which is evolving from 2G to 3G and now even 4G is becoming more widely available. This system has a relatively low setup cost, because it can be integrated with any mobile phone device. This is really tracking the person though and not the vehicle. Another downside to this system is that it is not as accurate as the others (it can be as far out as 100 metres), which can be incredibly important of you are looking to use the device to gain evidence of a location of your partner for a divorce court case.
Here at Alpha 1 Legal Services we have extensive experience of working with vehicle tracking devices both in the UK and abroad. Should you require assistance please feel free to contact us via the contact details on the website.